17 Sep

Digging Deep Into Soil Analysis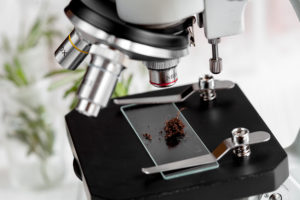 Successful golf course grounds all start with healthy soil. Course managers need to care for it, maintain it, and most definitely, test it. If the nutrients are off in the soil, it can have a waterfall effect, messing with everything on the course. By having it tested, you can cut problems off before they begin by looking at it in depth and making sure it's balanced. Therefore, it's important to dig down and understand soil testing.
How a Soil Test is Conducted
Soil tests have been conducted on golf courses for decades, but in recent years, it has become a standard regular to-do item for managers due to nutrient management program requirements. The tests are done in order to examine a soil's fertility, and also to look at the concentrations of plant nutrients, including acidity and pH levels.
When a test is conducted, collections are taken from a variety of areas on the course—not just one spot—taking about two measuring cups full of soil at each area. This amount is needed in case additional tests need to be run should an issue be found. A few additional testing steps to consider:
The soil needs to be examined at during different times of the year—not just annually. Tests can have different results due to weather and growing seasons.
When each sample is collected, the soil should come from the same depth at each spot. If the samples are taken from different depths, the results will not be accurate.
Soil Testing Aftermath
After collection, the samples are then sent to a laboratory for an in-depth analysis. When the report comes back, it's important to understand it and make adjustments. For example, protecting our environment is one of the main reasons this testing has become mandatory, so the test looks for high levels of things such as phosphorus, nitrogen and pesticides that are dangerous, particularly to surrounding water.
Soil test results, and knowing what to do with them, are confusing—so let us help you! As a Brookside Labs partner, we have the ability to conduct an ongoing series of analysis, making recommendations to balance your soil based on your local conditions, fertility levels, climate, water quality and traffic patterns. Proper testing will give your course the best chance for success, keeping your soil balanced.