23 Oct

Winter Course Care in the North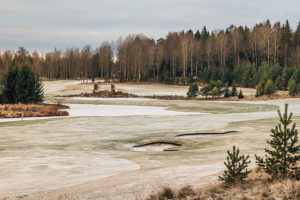 Winter is just around the corner, so as course traffic begins to slow for many clubs in the North, that doesn't mean the course maintenance does. If you think about it, during the prime golfing season, a super's focus is on general course maintenance and making sure daily play is the best it can be. But during the months when it's too cold for golfing, this is the time to catch up, get organized and start planning for the next year. Here are some suggestions to help you be prepared come spring. Can you check all of these off your list?
The Fall Must-Do's
There are four things a super must do in the fall before the winter hits: Aeration, winterizing the irrigation system, one last fertilization to keep your turf fed, and lastly, just before the first snow hits, a fungicide application to help with mold prevention. These four projects are the most important things a super can do to get their course through the winter.
Maintenance Across the Property
After the must-do's, there are a variety of projects that can be done to not only keep your employees still working, but get your course ready for the new year:
Construction or Drainage Projects: Once it turns cold, there are fewer golfers on the course, making it a prime time for large projects that would be disruptive them. Some ideas include rebuilding heavily damaged tees, replacing bunkers and/or replenishing the sand in your bunkers, cart path repairs, and reviewing course drainage to see where additional drainage is needed or if there are areas not draining properly.
Equipment Care: This is a common time for supers to conduct annual equipment repair, cleaning and maintenance—like a deep review of the mowers—as well as perform equipment tune-ups and replace anything that is past its prime. You'll also want to make sure all course equipment is stored somewhere safe from the winter elements.
Landscaping: It's important to prepare all your gardens and beds for the winter, but remulching is also time well spent this time of year. Trees are also worth reviewing. Not only for general clean-up of fallen branches and leaves, but also looking at any trees that need pruning or removal.
Turf management: Monitor areas of shade. In winter, those areas are prime for damage because they won't get any sun. Can you cut back the trees at all to help them through the dark winter? Also, determine any special areas that many need covers—particularly putting greens. Tarps or synthetic covers are ideal, but straw also works. Covering them will protect them from snow and ice, keeping them warm and moist.
Testing Time: The Fall is a great time for soil and water testing. You'll get some great baseline numbers. It's a good idea to also perform tests on your turf to check its health to avoid damage. But you need to make sure to follow this up with testing in the spring and summer to get comparison numbers.
Those Annoying Projects: Giving your maintenance buildings a good clean-up is a good place to start, but also take the time evaluate all the little things (like restrooms, small buildings, course tee markers, course garbage cans, ball washers, etc.). All the little accessories should be evaluated, cleaned or replaced. It's not fun, but your members will appreciate it come spring.
The Snow Has Landed
Once the snow has landed, the options do become limited. A lot of work is spent on just dealing with the winter weather. It's important to monitor the weather, using weather tracking software to stay ahead of cold fronts and watch for ice. Snow removal is often required (sometimes plowing roads, lots and cart paths, and shoveling walkways). But it's also a good idea to keep an eye on heavy ice areas—it may require some helping hands to break it up, even remove it—particularly on the greens where it can do the most damage.
Also, winter is a great time to shop. With proper budgeting and forecasting for the next year, this is a great time to buy replacement machinery—since it's off season, there are more deals to be had. It's also a great time to consider purchasing fertilizers and other chemicals early to also save on money. Continuing education is also a worthwhile pastime when there's nothing to do.
Soil & Water Consulting Can Help
If you need help preparing your course for winter, or would like to conduct testing to better assess your soil, water or turf, we can help. With years of experience combined with the scientific expertise of our partner, Brookside Labs, we can help you make knowledgeable decisions and set you up for success.